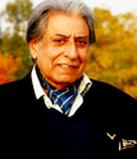 Welcome to the Falcon's Nest, my sanctuary where I can share with you, my audience, a nation's history evolved before one man's eyes.
Here, I hope you will find pieces of me, that allow you to ask questions about our history and how we came to be as a nation.
Use the navigation bar to flight through my various reflections and details to learn more.
Air. Commodore (R) S. Sajad Haider
Sitara-e-Jurrat (DFC)
           Reported by major book stores they say more than 8 editions of the, book have been printed till December 2016. The book is selling in India and USA. All editions of Flight of the Falcon are still selling well by grace of God. The response in messages is gratifyng since the message in the book is getting across. But the publisher known for his chicanery, greed and deception has not communicated or paid royalty since the first n only time in 2009. But am glad the truth is being assimilated with great enthusiasm and passion. 
- IMPORTANT UPDATE - 
'Flight of the Falcon'
Now available at Saeed Book Bank and Mr. Books Islamabad not Vanguard. 

For online purchases, please contact 03008549300. 
URDU VERSION LAUNCHED ON 9th SEPTEMBER,2010.
Visit Saeed Book Bank or Mr. Books but do purchase from Vanguard mafia. 
Please check here for news and updates